A former Eastern Washington geology professor who advised many graduate students (including popular author Bruce Bjornstad), Dr. Kiver spent decades mapping geology in eastern Washington with EWU Geography professor Dale Stradling. In the early 1990's, Gene and others began talking about forming a group dedicated to sharing the Ice Age Flood story with the general public – and the Ice Age Floods Institute was born. In 2009, legislation for an Ice Age Floods National Geologic Trail – sponsored by U.S. Senator Maria Cantwell and U.S. Congressman Doc Hastings – was passed by Congress.
Later in the interview, Gene discusses an upcoming book co-authored with former student Bruce Bjornstad. On the Trail of the Ice Age Floods: The Northern Reaches is a follow-up effort to Bjornstad's On the Trail of the Ice Age Floods: A geological field guide to the Mid Columbia Basin first published in 2006. In Volume 2 to be released soon by Keokee Books, Bjornstad and Kiver focus on the Channeled Scabland, where the evidence for megafloods is most striking and dramatic. It was in the Channeled Scablands early in the 20th century where rebel geologist J Harlen Bretz first saw most clearly, and described most eloquently, the evidence for these Ice Age cataclysms that so violently transformed the region. Coauthors Bjornstad and Kiver present dozens of trails and tours directing readers to experience, firsthand, the striking aftermath of the cataclysmic Ice Age floods.
Late in the interview, Gene reflects on his exploration adventures at the summit of Mount Rainier. Instead of the usual mountaineering exploits, Kiver and a small team in the early 1970's mapped an elaborate system of steam caves underneath Rainier's summit glaciers . Dr. Kiver also reflects on his long teaching career in the Geology Department at Eastern Washington University in Cheney.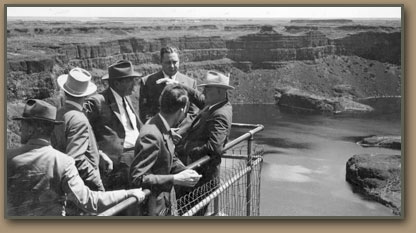 Image from Rufus Woods Collection (CWU) shows early scabland interpretation.
"F.A. Banks, Supervising Engineer at Grand Coulee Dam explains features to Secretary of Interior Krug and party at Dry Falls near Coulee City, Wash." -June 11, 1946
Efforts by Kiver and others in the early 90s led to formation of the Ice Age Floods Institute - an organization dedicated to telling the story of the Ice Age Floods.