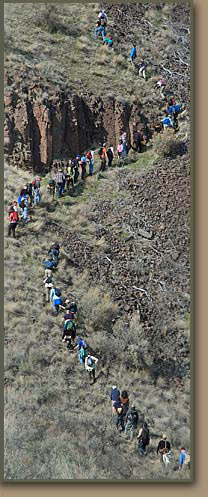 IAFI members on the Trail of the Ice Age Floods
About the Ice Age Floods Institute
The Ice Age Floods Institute brings the facinating natural history of the floods and their environmental impacts to an ever-expanding audience. Since its founding in 1995 the IAFI's mission has been that of promoting widespread awareness and understanding of the Ice Age Floods and their impact upon the current environment in the Pacific Northwest.
IAFI does this in several ways.
Ten local chapters in Washington, Oregon, Idaho and Montana spearhead its educational and public service initiatives through local meetings, lectures, field trips and other special programs.


The institute supports the establishment of an Ice Age Floods National Geologic Trail, which will be a four-state system of marked highway routes featuring significant landforms created by the floods.


IAFI also assists Ice Age Floods tourism initiatives in cooperation with diverse organizations ranging from local chambers of commerce to travel specialists, tour operators and even winery owners.