In 2010, the owner of Raw Space – a newly renovated performing arts structure in historic downtown Ellensburg – approached Nick about using his venue for a series of free lectures to the public. The result: six Wednesday evening lectures in the spring and another six Wednesday evening lectures in the fall (taped for KCWU-TV) on the Geology of Washington. Crowds of over 100 folks per lecture were commonplace.
A direct result of the Raw Space lectures was a generous donation in 2011 from the Donna & Charles Cole Charitable Foundation for continued outreach to the community. That spurred Nick's most recent project: 'Central Rocks: Roadside Geology" – a series of short films shot in the field by KCWU-TV's Rick Spencer and Chris Smart, and hosted by Mr. Zentner. Local landmarks like Frenchman Coulee, the Yakima River Canyon, and the Thorp Prairie have been featured.
Raised in southern Wisconsin, Nick discovered geology while working in Glacier National Park in Montana. After undergraduate work at the University of Wisconsin, Nick did his graduate studies at Idaho State University - in the path of the Bonneville Flood – spending two summers mapping geology on the northern margin of the Snake River Plain near Yellowstone National Park.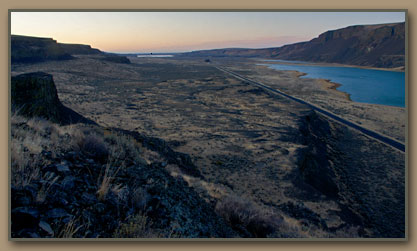 Sunrise at outlet of Grand Coulee

Explain need to mouseover image for description! Compare this to Nick's water bottle maybe "barrel of the gun"? hundreds of feet deep ... rushing into Quincy Basin ... maybe mention Ephrata Fan?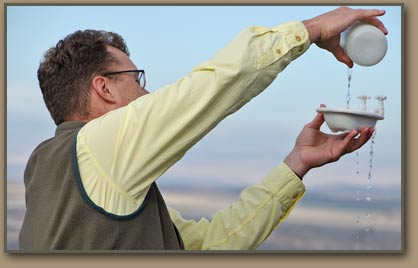 Nick teaching on Frenchman Hills. Explain bottle is Grand Coulee flow. Mention Crater Coulee and Drumheller along with Gorge Concert drainage along with the two he's pouring out of Frenchman and Potholes.