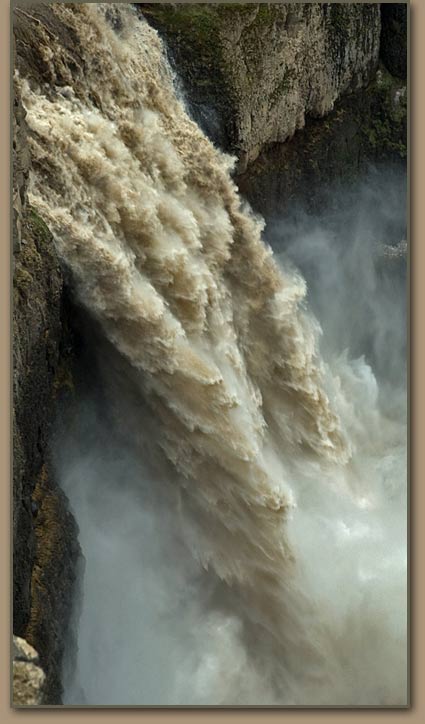 Palouse Falls is one of the many awesome features created by the Ice Age Floods.
Melting Snow Fuels Palouse River
Two days of warm temperatures in early January led to the rapid melting of eastern Washington's snowpack. A cold front then moved through the area and slowed the melt off. Only minor flooding of the Palouse River was reported by the National Weather Service.
On 9 January 2009, flows recorded at the Hooper, Washington USGS site exceeded 9,000 cfs. The images and video on this page were recorded when flows had lowered to less than 6,000 cfs. The last time Palouse River streamflows were recorded in excess of 9,000 cfs was December 1998 when the flow reached 15,900 cfs. USGS records for Palouse River flows date back to 1898.
Though nothing when stacked up against Ice Age Flood streamflow estimates, a visit to the falls on 4 February 1963 would have been impressive as river flows topped 33,500 cfs!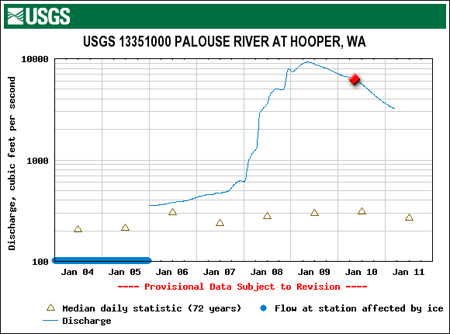 Red diamond marks approximate time images and video on this page were recorded. The USGS Palouse River site at Hooper is 15 miles above Palouse Falls.
Click to open USGS map that includes the Palouse River Basin: USGS map